Are you looking for the best supplements for dog shedding? Shedding is the number one most complained about issue with dogs.  Did you know you can reduce the amount of shedding through the nutrition that you give your dogs?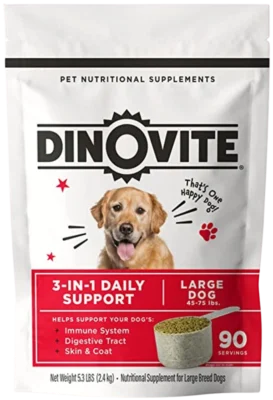 DinoVite: Dog Advisor HQ's Vet-Approved Top Rated Supplement for Dog Shedding
DinoVite is just what the doctor ordered for your pup's shedding and any other skin issues. As a dog owner who wants the best for your fur baby, you simply can't beat the combination of ingredients in DinoVite 3-in-1.
Don't delay! Your dog is "itching" for a healthier skin and coat!
DinoVite is formulated with only all-natural, safe ingredients, and NO artificial fillers or preservatives. Scroll to learn more, or click the button here to get your best price on Amazon.
Like humans, dogs can benefit from nutritional supplementation for many conditions, and we have found the 2 best supplements for dog shedding.  Just as it's important to make sure that you are getting all the vitamins and minerals you need, you also need to do the same for your dog.
So, to reduce the never ending brushing, we want to make it easier for you to decide which supplement will work best for your dog to reduce their shedding.
Note:  We don't give you long lists of products to think about just so we can make a buck.  That wouldn't be true to our integrity or respectful of you and your trust in us.  Instead, we tested several supplements that are not only beneficial for reducing shedding, but are good for overall health.  Ultimately, we found 2 products that actually work as claimed.  Read on for the dog supplements for shedding that we are proud to present, with confidence, to you.
First up is Dinovite's dog supplement. This supplement has Omega 3, probiotics, prebiotics, amino acids, fatty acids, vitamins, and minerals.
At a great price, you will receive a 90-day supply (for large dogs, 41 lbs and up). The mix of vitamins and direct-fed microbial promotes health systems and body functions.
Additionally, Dinovite prides itself on being made and sourced in the US.
The Omega 3 and fatty acids are what help reduce shedding. Other than lowering shedding, omega 3 also helps to fight cancer and promote a healthy heart.
It's best to start introducing your dog to this supplement at an early age, but even if your dog is older, the benefits of omega-3's are numerous. Along with helping skin & coat and joint issues, omega 3 also supports brain development in puppies.
Now let's go over how you should feed it to your dog.
First, you want to check with your vet to ensure it's safe to give to your dog.
Next, all you have to do is add the supplement to your dog's regular food, regardless of whether it is dry or wet dog food.
Note: Gradually increase the serving size when mixing with your dog's food to avoid digestive issues such as diarrhea or an upset stomach.
If your dog is not a fan of the powder additive flavor, try adding broth to the food.
Mainly having good reviews, the only downside of the supplement users seem to note is the smell. The smell occurs because it is an additive.
Having to deal with a bad smell for a couple of seconds is better than vacuuming many times a day to remove all the dog hair.
Remember: If your dog takes any medications, you should consult with your veterinarian before adding a supplement to your dog's diet.
Pros/Key Takeaways: 
Whole Food Supplement
contain vitamins, fatty acids, enzymes and key minerals
90-day supply
U.S. made and sourced
Promotes healthy skin and a shiny fur coat
Supports proper digestion and immune function
Cons: 
Some dog owners report that the smell is not pleasant
Some dogs do not like the taste
When searching for the best supplements for dog shedding, you might want to consider a chew that helps with shedding and a whole lot more.
Your dog may not be a fan of the flavor associated with powder supplements. But, you can still give your dog the nutrients they need by using soft chews as treats, like these great ones from Pawfect Chew.
The dose will vary based on your dog's weight, but there are a total of 120 chewables within the package.
Pawfect Chews are packed with Omega 3, 6, and 9, fatty acids, amino acids, vitamins, and minerals. These treats will have your dog glowing.
The Chews are made from salmon fish oil, natural algae, and biotin. These treat-like supplements boost the health of your dog's fur and skin even more.
After consistently feeding your dog these treats, you should see improvements to your dog's joint health and energy level as well.
To ensure your dog likes the flavor, these soft treats are made to have a delicious chicken flavor (without containing any actual chicken).
The chewables are free of soy, corn, sugar, dairy, preservatives, hormones, and artificial flavoring to prevent allergic-related health conditions.
This is great if your dog usually suffers from allergies.
Users appreciate that the treats do not have a fishy smell to them, nor do they make your dog smell like fish. A win-win!
Pros/Key Takeaways: 
Improve the health of your dog's skin and coat
Supports immune function and brain health
Soft, chewable treat
Package of 120
Great for joints
No fish smell
Cons:
Best to begin with smaller servings to get you dog used to the smell and taste
The larger your dog, the more chews will be required per day to reach maximum effectiveness
Make Sure Your Dog's Food is On-Point for Even Better Shedding Control
Feeding your dog vitamin-, mineral-, and nutrient-rich food is always something a pet owner should strive for.  If whole food choices are an option for you, definitely try that first…supplementation might not even be necessary.
Your dog benefits from nutrient-rich foods just as you'd benefit from healthy foods. In fact, there are many nutritious whole foods that are healthy for both dogs and humans. Healthy eating can be a journey that you and your dog companion can share.
But if you determine that supplements are the best course of action for you and your pup, we recommend Dinovite and Pawfect Chew's omega Treats.
Some dogs will not mind the flavor of Dinovite's powder supplement, while others will flee at first sight of it.
Remember: If your dog does not like the powder, you can always provide the same nutrients using treats, like Chewables from Pawfect Chew.
Wrapping Up Our Discussion on the Best Supplements for Dog Shedding
It is important to remember these two things when first adding supplements to your puppy's diet.
First, the results will vary from dog to dog. Just like humans, if it works for one dog, it doesn't mean it'll work for the other. You have to experiment with different supplements to see which one is best for your dog.
Secondly, patience is vital. It will take time for the results to be noticeable. Vitamins and minerals take time to kick in and build up within the dog, allowing the body to distribute it where it is necessary.
Now you know the two of the top contenders for the best supplements for dog shedding. We are confident that Dinovite and Omega Treats are the 2 best supplements for dog shedding. So, which one will you try?