When learning what I do for a living, people are always shocked to hear that I am a veterinarian in the US Army, usually because they did not know that the US Army had veterinarians.  And most people have never heard of military working dogs.
The Army is the only branch in the military that has clinical practice veterinarians, so we can work on Navy, Marine, and Air Force bases as well. The job of a US Army veterinarian can be simplified into two missions: Public Health/Food Safety Mission and Animal Healthcare Mission.
The Public Health and Food Safety Mission
The public health mission is often seen as the less glamorous part of the job, but it is just as, if not more, important than the animal health mission. In this role, we are directly responsible for ensuring that food and water on any installation, whether in the US or on deployment, is safe for our soldiers to consume.
Napoleon Bonaparte once stated the "An army marches on its stomach", which remains true to this day. Foodborne illness or waterborne disease could compromise our fighting force, decrease our readiness, and result in failed missions.
Biosecurity plays a large part in this job, so we are sent to audit all facilities that provide food or water to the military. That means traveling to water bottling plants across the world, local warehouses that store the non-perishables, or even inspecting a factory line that produces pico de gallo that gets sent to bases for Taco Tuesday!
These skills are not often taught in veterinary school; therefore, the Army trains its veterinarians and their public health teams on what to look out for and how to remedy any shortcomings. We also oversee inspecting the facilities on post that sell food to service members, like the large commissaries (grocery stores) or the small shops attached to gas stations. 
A large portion of those inspections include checking the temperatures at which frozen or refrigerated goods are kept, minimizing the risk of selling spoiled goods unknowingly. While this may not sound very exciting to some, this job is mission essential and US Army veterinarians are the public health subject matter experts in the military, making them perfect for the role.
The Animal Healthcare Mission
The animal health mission looks similar to what private practice veterinarians do daily. We work in a veterinary treatment facility (clinic) on base.  We can also see and treat privately owned animals that belong to service members or veterans.
We typically have all the same equipment as private practices, including digital radiography, surgical suites, dental cleaning supplies, and in-house blood work machines to practice the best medicine. I have seen service members bring everything to the clinic from dogs and cats to birds and bearded dragons, which challenges us to remain flexible in our medicine and stay current on all the newest practices.
Military Working Dogs (WMD's)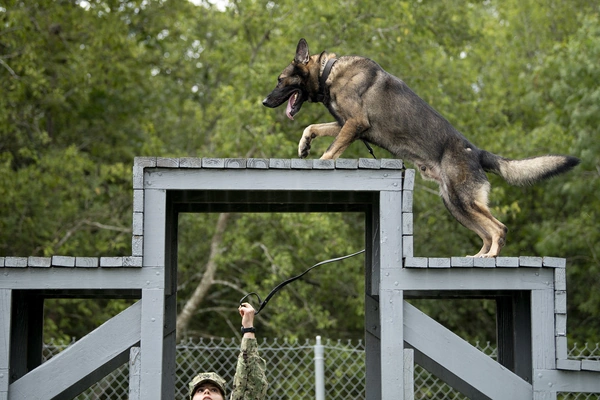 A large portion of our animal health mission is treating the government-owned animals such as the military working dogs (MWDs).  Working with the MWDs often includes yearly exams with bloodwork and dental cleanings, monthly check-ins to weigh them and give monthly preventative medications or shots, and seeing them whenever they appear sick or injured.
Whenever our units acquire a new MWD, we also perform their surgeries such as a gastropexy (tacking their stomach to the body wall) to prevent a life-threatening condition called a GDV, in which the stomach rotates on its axis inside the abdomen.
I might sound biased, but MWDs are some of the best assets that the military has! They are considered a force multiplier because they often save hundreds to thousands of US soldier and civilian lives. The military invests a lot of training for them and the best medical care.
When it comes to MWDs, money really is no object because they are such an integral part of our missions here at home and overseas. Typically, MWDs will be classified as either explosives/drug detection, patrol, or both.
Military working dogs are specially trained to be able to detect IED's (improvised explosive devices) that are often placed on trade routes or patrol routes that our soldiers must traverse when deployed. They are also trained to sniff out caches of weapons, ammunition and various types of illegal narcotics and other contraband.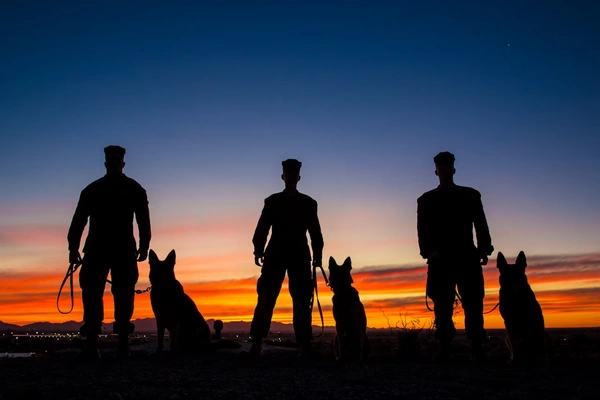 Another primary duty of MWD's is to partner with MP's (military police).  They are highly attuned to their handler's commands, and will be able to detain a threat, and neutralize it with ease with one word or hand motion. Their skills are unsurpassed and make them incredibly valuable to the military and as to the units to which they belong.
Horses in the U.S. Army
The Army also still owns several horses that live on select posts across the country. They mainly are used to pull the caissons in military funerals to honor fallen service members.  These majestic horses are a big part of the awe-inspiring tradition and pageantry that is a military funeral procession.
Army horses can also be a part of one of seven units that are active-duty cavalry detachments, like the unit in Ft. Hood, TX. Although horses are no longer used in battle, these active-duty horses participate in parades across the country, as well as mounted demonstrations that include drill maneuvers and mounted use of several weapons like sabers and carbines.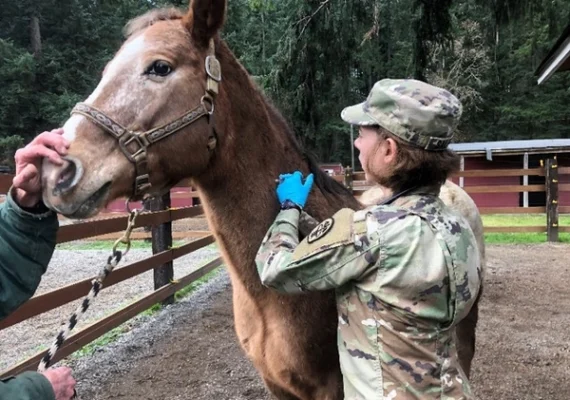 While their job may be more ceremonial in nature, they help to build bonds between civilians and the military, while demonstrating the true variety in jobs that are available within the Army.
The Life of a U.S. Army Veterinarian
On any given day, an Army veterinarian may treat MWDs in the morning, perform a surgery or two, and then go inspect a food facility on post in the afternoon. It is our duty to complete both missions here in the US and when deployed overseas.
When talking about what it means to be a veterinarian, we hear a lot of "You must enjoy playing with puppies and kittens all day." In truth, as you can see from what we've discussed today, seeing young, cute animals in the clinic is only a small portion of the job when someone chooses to go into clinical medicine.  Then adding military service to the mix allows for so much more.
There are a great many avenues to take in veterinary medicine. Some veterinarians, such as those who go into public health, epidemiology, clinical pathology or research never get to treat animals that are pets, or counsel their worried owners. 
Vets who go the clinical route DO get to work with family pets, and even livestock, but things are not always cute and fluffy and wonderful.  In clinical veterinary medicine, we often see complicated internal medicine cases, perform surgeries daily, and do a lot of client education on different diseases that pets get, and that we try to prevent.
The job title of "veterinarian" is an all-encompassing term for clinician, public health expert, diagnostician, radiologist, surgeon, and so much more.  And Veterinarians in the US Army have even more subcategories to their title such as soldier, leader, weapons expert, and food inspection auditor.
However, veterinarians can also specialize later in their career and go back to do a residency in fields such as surgery or internal medicine, or they can pursue advanced degrees in public health. Therefore, the longer you stay with the military, the more likely your job will become more specialized in either the public health/food safety mission or the animal health mission.
In Closing
I am extremely happy to be able to combine my passion for animals with serving my country. It is humbling and satisfying to remember that I am a soldier first. As a U.S. army veterinarian, one must remain proficient with weapons and tactics, be able to set up field hospitals, and lead your team of soldiers, AND fulfill the 2 missions. It is a lot of responsibility, but it is highly rewarding knowing you can serve your country while also pursuing your passion of veterinary medicine.